Headquarters: 319 The Hermit's Trail, Altamonte Springs, FL 32701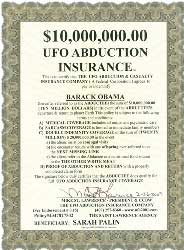 http://www.ufo2001.com
Famous policyholders include actress Shirley MacLaine and a Harvard professor who has written extensively on aliens.
Key Officer: Mike St. Lawrence, Founder and President
Just in case you are worried about being abducted by aliens in flying saucers, the St. Lawrence Agency offers UFO Abduction Insurance. For a lifetime premium of $19.95, you will receive a gold personalized policy, frequent flyer endorsement and a claim form, which requires a signature of an onboard alien.
In the case that you are abducted and are able to prove it, you will be paid $1 per year for 10 million years or until you die, whichever comes first. Payout amount is double if the policyholder has an alien child or is eaten by aliens.
Amazingly enough, the St. Lawrence Agency has paid out two claims in its 23-year history – both in New York State.
Sources: ufo2001.com, ojar.com, associatedcontent.com
Compiled byConsumer Insurance Guide staff