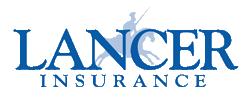 Headquarters: 370 W. Park Ave., Long Beach, NY 11561
www.lancer-ins.com
Key officers: David P. Delaney Jr., President & Chief Executive Officer; Timothy D. Delaney, Executive Vice President, Passenger Transportation Division
Lancer Insurance provides a variety of insurance products to niche auto industries throughout the United States. Insurance lines include those for passenger transportation vehicles, rental vehicles, limousines, school buses, small fleet and owner/operator long-haul trucks, commercial driving schools, and commercial auto businesses. The company has coverage in force on nearly 40,000 buses, limousines, and vanpools. Additionally, it offers insurance for commercial explosive manufacturers, drilling and blasting contractors, and merchant marine officers, tankerman, and sea pilots.
Some quick facts about Lancer Insurance:
Lancer has been in operation since 1985. Its current family of subsidiaries includes the D.C. White Agency, Nobel Insurance Services, MOPS Marine License Insurance, and Owner Operator DIRECT.
The company recently received an "A-" financial strength rating by A.M. Best.
Source: Lancer-ins.com, hoovers.com
Compiled by Consumer Insurance Guide staff