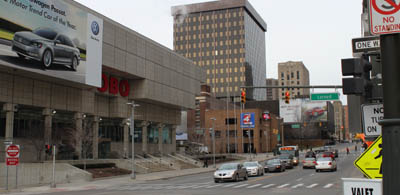 Michigan drivers have some of the highest auto insurance rates in the nation, and drivers in Detroit pay rates so high one state senator says the premiums there are "probably the highest on earth."
Sen. Joe Hune, R-Fowlerville, chairs the Senate Insurance Committee in Michigan, and he says the huge rates paid by Detroit drivers "has caused people to find some creative solutions."
Among those creative solutions, Michigan drivers have used what's known as the "seven-day auto insurance policy," a way for drivers in Detroit and other Michigan cities to make an end run around a current state law which requires continuous no-fault insurance coverage. Critics say the policies actually encourage drivers to skirt the law. To make that happen, those lower income auto owners buy the seven-day insurance, renew their vehicle registration and license plate tabs, and then let the policy lapse to save money.
On the other side of the argument, those in support of the policies say they function as a last resort for motorists unable to afford high premiums in Michigan.
The Michigan Department of Insurance and Financial Services announced that they plan to withdraw a decision made back in 2011 that allows the seven-day policies.
"The Jump Start Policy as a whole is designed to ensure that coverage will expire in just seven days, after which drivers are likely to experience periods of interrupted coverage without mandatory no-fault insurance," says Michigan Insurance Department spokesperson Rhonda Fossitt.
Michigan says the policies are in violation of the state insurance requirements as they automatically terminate without notice or automatic renewal, The department adds that the policies are "designed to cause the policy to expire rather than renew."
"This is crazy. This is government at its worst, and it's a bureaucracy literally out of control," says Hune of the change.
Experts say the policies are most often purchased in urban areas of Michigan such as Detroit, Flint and Saginaw.
Anthony Yousif, the CEO of L.A. Insurance, says his company processes around 75 applications for the seven-day policies each month in larger cities, but that agents try to sell customers longer-term policies.
"It's an affordability issue right now. If the state ends seven-day policies, we don't know how these consumers are going to get their vehicles tagged. We don't know how they're going to get to work. Not only that, how are they going to purchase vehicles from used car lots?" Yousif told the Detroit News.
More than 90,000 seven-day policies were presented as proof to the Michigan Secretary of State during one year-long period, and a random sample of those same motorists found that, three months later, only 16 percent of those motorists were still insured.
How much effect the removal of the seven-day policies will have is as yet unknown. Fred Woodhams, a spokesman for the Secretary of State's office, says people can also cancel long-term policies once they've renewed their registration and tabs.
"I could cancel my insurance tomorrow, and I'd get a rebate (back) to the day of cancellation according to the law. You can do that with a normal policy, but seven-day policies are obviously much more convenient for those particular individuals," says Pete Kuhnmuench, the Executive Director of the Insurance Alliance of Michigan.
Yousif says Michigan has work to do to fix the problem beyond wiping out the seven-day policy option.
"Michigan needs to take a hard look at the cost of auto insurance," Yousif said. "If they fix the problem, the seven-day goes away on its own."
Insurers say the sky-high rates in Michigan can be directly tied to the state's "no-fault law." One feature of the law requires that motorists receive unlimited lifetime medical benefits if they're injured in auto crashes.