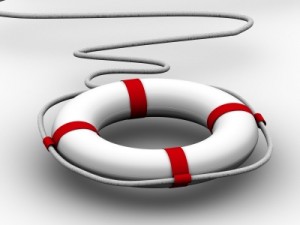 The floundering of the Italian cruise ship Costa Concordia illustrates that it's not only handy to have travel insurance when trying to replace a lost suitcase, it can also come to the aid of those who have to take an unexpected swim.
When Captain Francesco Schettino steered his boat too close to the island of Giglio and "tripped" his way into a lifeboat, his stranded passengers had to fend for themselves and leave their possessions behind.
"The things you don't think of when you're jumping overboard is that you have no identification, you're in a foreign country, you can't get out. What are you supposed to do?" says Carol Mueller, spokesperson at Travelguard, a travel insurance company in Stevens Point, Wis.
Her company did have clients aboard the cruise ship. While they managed to make if off the boat and were being taken in by locals, Mueller says the insurer's focus has been on alerting their families, helping with flight arrangements and working to replace their passports. Other priorities include replacement of personal items, such as clothing and cell phones.
The Costa Cruise line hasn't yet said what kind of reimbursement or arrangements it will offer its passengers, although Mueller notes that when a Carnival Cruise Line ship, the Carnival Splendor, lost all power west of Mexico in November 2010 that company reimbursed its passengers and offered them another cruise for free as compensation.
In that particular case, travel insurance didn't enter into the equation because the cruise line compensated the passengers.
Some travel companies themselves offer insurance packages. Royal Caribbean, for example, has a CruiseCare Cancellation Penalty Waiver. If a traveler's plans are interrupted or canceled, the company waives the non-refundable cancellation provision of a cruise ticket and pays the customer for any unused portion of their ticket.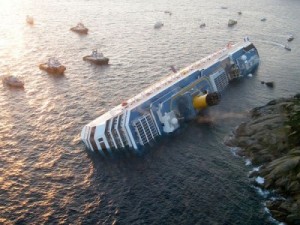 Under this package, if a customer cancels "for any other reason" they could be eligible for credits of up to 75 percent of the non-refundable portion of their cruise.
If any of the Costa Concordia passengers needed medical evacuation and expenses, this would typically be taken care of by travel insurance but would not be covered by Medicare and might not fall under a standard group health insurance plan.
The cost of a medical evacuation home can vary widely depending on the illness and location.  Someone with a broken hip in Europe would need a first-class ticket home.  Being stuck in a remote area with a severe illness might require a medically equipped jet and run upwards of $250,000. Mueller says Travelguard's most popular Gold Plan includes up to $25,000 coverage for medical expenses and $500,000 for emergency evacuation and repatriation of remains.
"In a lot of countries the first thing they ask when you go into a hospital or a doctor is if they can have a credit card. Anybody on Medicare definitely needs to make sure they're covered with a travel insurance plan because Medicare will not cover you and most group health plans won't cover you or will provide very little coverage with very, very high deductibles," Mueller warns.
Although a cruise ship running aground might be an incredibly rare event, the reporting of fatalities aboard also illustrates that sometimes vacationers might need help repatriating the body of a departed family member.
Mueller says a typical travel insurance plan includes $10,000 in coverage for expenses, along with the insurer taking care of a complex maze of paperwork to make the repatriation possible.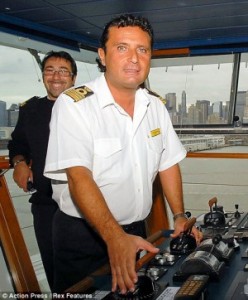 Speaking from experience, Mueller says her aunt passed away in Russia more than 20 years ago, before Mueller was involved in travel insurance, and it took six months for her family to get the body back to the U.S.
While every insurer offers varying levels of coverage, Mueller says a standard rule of thumb is to have a trip insured for 5 to 7 percent of its total cost.  She also says the Costa Concordia is an example of why she recommends getting the most inclusive plan possible.
"Everybody has their own need and interest for travel insurance, and that's why it's important to get a comprehensive insurance policy with full coverage because you just can't predict what could happen," Mueller says. "Obviously with the passengers on the Concordia no one ever thought they'd be in a situation like this."
What travel insurance typically covers:
Travel insurance packages vary by company and level of coverage, but here are some basic items and options available. All of them are subject to the total insured limits within each package:
–Trip cancellation—100 percent of pre-paid non-refundable costs in case of certain, unforeseen events such as sickness, accidental injury, death or similar catastrophe.
–Cancellations due to an unannounced strike, inclement weather, military duty, jury duty, etc.
–Cancellation for a work reason—does not include putting a cover on that TPS report.
–Trip interruption—covers any forfeited costs and additional expenses.
–Sickness, injury or death.
–Coverage at host destination, in case something happens to your intended place of stay.
–Coverage for termination of employment—lose your job? Stay home.
–Coverage for terrorism—if bad guys strike somewhere, you don't have to visit them.
–Emergency evacuation—could be anything from a first-class ticket home to a ride in a fancy helicopter.
–Medical expenses—because health insurance may not cover you and Medicare certainly won't.
–Loss or theft of travel documents—they help you replace your passport.
–Baggage delay—for when your swimsuit is miles away and you REALLY want to hit the beach.
–Cancel for any reason—an option on many packages. Pays up to half of prepaid non-refundable costs, up to the maximum insured limit. Subject to restrictions, such as cancelling at least 48 hours before a scheduled departure.
–Flight accident option—added coverage in case of injury on a plane.
–Car rental collision option—because foreign streets can be very confusing.