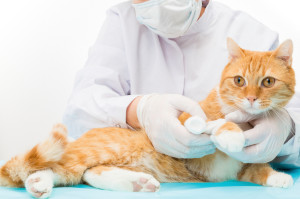 By Emily Miller
Purchasing a pet is a big decision that comes with many variables. After bringing home your new pal, it's important to have your home equipped with the following essentials: food, water bowl, grooming tools, toys to keep them busy and a comfy bed or cage.
However, over 99 percent of US pet owners are forgetting one of the most important products to keep your pet safe and healthy, which is pet insurance.
Pet insurance – much like health insurance – is used to cover the costs of medical expenses. The biggest difference between the two is that pet insurance will reimburse your directly. This means that you will pay the vet bill upfront at the time of treatment, submit a claim and will receive a check from the pet insurance company shortly afterwards.
These type of policies are broken up into two major categories – accidental plans and comprehensive plans.
Accidental plans are geared towards covering all the silly things your pet does – such as swallowing non-edible items – or human mistakes, such as a car accident. But it doesn't cover illnesses like cancer, a disease that accounts for over 50 percent of all disease-related pet deaths every year, according to Pet Cancer Awareness.
Comprehensive plans are often considered as the best value when it comes to pet insurance, a over 95 percent of pets with insurance have a comprehensive plan.
As with health insurance, the premium that you'll pay every month is based on a number of factors, including your animal's breed, their age, and the policy features you select. Coverage can range from basic, no-frills coverage to generous comprehensive plans that even cover alternative treatments like acupuncture.
Premiums can be controlled by the size of the deductible you're willing to pay or opting for a lower reimbursement rate.
Securing a pet insurance policy isn't about saving money, it's about being prepared if an unexpected event were to arise. It's about planning for the unexpected.
In an ideal world, your pet will remain safe and healthy until they reach the end of their natural life. Unfortunately, this isn't always the case. Approximately 25 percent of all dogs will develop a tumor at some point in their life and about 1 in 10 cats will develop Feline Lower Urinary Tract Diseases, according to Pet Cancer Awareness.
Having pet insurance will allow you to provide your pets with the treatments they need and when they need it the most. Purchasing a policy sooner rather than latter is always the case when it comes to pet insurance, as insurance companies don't cover pre-existing conditions.