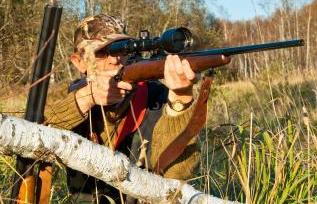 No one can guarantee that an outdoors man will come home with a large mouth bass or an eight-point buck, but with hunting insurance they'll be covered if there's any mishaps in the field, stream or wherever else they look for game.
Jim Longhway, president of the Bryant Longhway division of Market Financial Group says he came up with the idea of hunting insurance in the late 1990s after years of involvement in the insurance industry and in shooting sports. He also insures shooting ranges and gun clubs.
"It's a specially designed program for people that do a lot of hunting and fishing. It's very inexpensive, that's the thing," Longhway says.
At $99 per person, per year, the Outdoorsman's Hunting & Fishing Accident Insurance covers sportsmen in case of accident or death within the continental U.S. The insured must be engaged in legal hunting or fishing only, with all the required permits.
Coverage includes medical bills up to $5,000, disability income at $100 per week up to 26 weeks and accidental death and dismemberment of up to $50,000 (or $10,000 if the death is the result of an accident involving a licensed motor-powered land vehicle).
Longhway says insureds must be actively engaged in hunting or fishing, as opposed to on their way to a location. He says the policy can act as a supplement to whatever life or medical insurance an outdoors-man already has, as well as help cover any loss of income after an accident.
"Health insurance doesn't provide any income while you're laid up. This one provides you some income," Longhway says. "It's one of those things that even if you had some life insurance, it's a little bit more than you'd get if you were injured or killed or whatever while you were hunting or fishing."