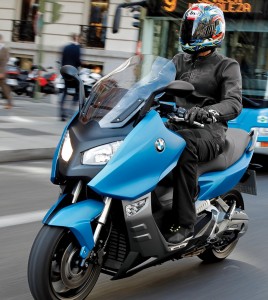 With gas prices skyrocketing and environmental concerns rising, more people are forgoing gas-guzzling muscle cars and SUVs for the sporty and less expensive scooters and mopeds.
The Irvine, Calif.-based Motor Industry Council reports a nearly 50 percent gain in scooter sales in the first quarter of 2011, according to its retail sales report, which tracks sales among the 18 leading motorcycle and scooter brands sold in the U.S.  In 2008, the MIC estimated scooter sales at 222,000, which it says set a new record.
To see why scooters like the Vespa have been popular in European countries for years and are being embraced by more motorists here, you only have to add up the savings.  Prices for the scooter itself range from about $2,000 for a 50cc gas scooter, or moped, which will go about 35 mph and get about 130 miles per gallon, to around $5,000 for a 250 cc scooter, which will go more than 60 mph and get between 50 and 70 mpg,  according to the web site, www.scooterfocus.com.  Used scooters and those built from kits are even less expensive.
In some states neither insurance nor registration are necessary for a scooter or moped, according to insurance experts and several state insurance departments.  Still, a number of insurance companies offer a broad spectrum of coverage to protect both the ride and the rider, at lower prices than more traditional and expensive vehicles.
"Due to the size and value of the scooter relative to a car or motorcycle being less, the insurance is cheaper for the scooter,"  Holly Anderson, spokesperson for State Farm Insurance, says.
While Anderson wouldn't get into specifics on cost, she says the insurance company varies the premium based on the type of scooter, age of scooter, age of driver, limit of liability on the policy, and deductible on the policy—the same items that are taken into account when rating other vehicles.
To lower the costs even more, you can complete a cycle safety course, insure multiple vehicles with the same company or combine your coverage with other insurance coverage with the same company, and have good credit history.
Here are some types of coverage available for scooters and mopeds:
Bodily injury/liability: There is one drawback to an increase in scooter ridership: an increase in scooter accidents and fatalities. According to the National Highway Traffic Safety Administration, there were 48 moped fatalities in 2004 compared to 99 in 2009, almost a 50 percent hike.  The NHTSA says, like with motorcycles, wearing a helmet could reduce the number of fatalities and injuries.  Donna Hamilton, an agent with the Byrnes Agency, an independent agency with three offices in Connecticut,  says she's not sure if liability is required in that state since registration is not.
"But you could hit a pedestrian or another vehicle and would be liable," she says. Bodily injury/liability coverage could pay for bodily injury caused by yourself to another driver or pedestrian or bodily injury to yourself caused by an accident with an uninsured motorist.  It also provides you with a legal defense if another party in the accident filed a lawsuit against you,  Hamilton adds.
Property damage/liability: Hamilton says this insures the driver against certain damages caused to someone else's property while operating a scooter and provides legal defense in the event of a lawsuit.
Accessories: If you have comprehensive coverage, accessories such as saddlebags, backrests and CB radios could be covered, according to Hamilton.  With State Farm, you could also get coverage for custom paint and body work and attached side cars.
Collision: This would pay for covered damage to your scooter or moped when it hits, or is hit by, another vehicle.
Comprehensive: "This would cover fire, theft and vandalism to your vehicle," Hamilton says.  The vehicle would be covered even if it is in storage for the winter.
Medical payments: If you have to pay the medical expenses for yourself or someone else due to an accident.
Roadside assistance:  In the event your scooter or moped breaks down.