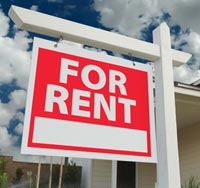 By Karla Sullivan
In the long run, owning a home will always be more cost effective than renting. but with credit being so tight, a rent to own option might be a better option since sellers are having a tough time getting that house off the market still.  As many real estate agents comment, it can be a disaster if both parties are not on the same page and have problems fulfilling their agreements.
Generally, a renter puts up a nonrefundable deposit with an agreed date at which he has the option to purchase; buying at the end of the lease. Because of such economic risk today, it has happened where the owner can't continue making mortgage payments and the renter loses substantial credit and can't buy. Now what?
Experts suggest that more of these deals will probably occur because of the poor housing market. Buyers and renters don't have many options.  And everything depends on the market! Most real estate experts agree that there is no one answer for the entire country to determine the best market either. Location or geographic area is everything. Though there really isn't one area that is taking off at this point in time.
Harvard just published a housing study for 2014 and commented that by the first quarter of 2014, housing starts and new home sales were down by 3 percent from a year earlier while existing home sales were off by 7 percent. Higher mortgage interest rates were to blame since the Federal Reserve cut back on long-term bonds and mortgage backed securities.
According to the Housing Vacancy Survey, the number of renter households was up by more than half a million in 2013. At the same time, the Current Population Survey reports that renter household growth was twice that pace. Regardless of this wide discrepancy, both surveys put renter growth well above the 400,000 annual average of the last few decades.
When renting, generally you do not pay for maintenance and if you re-locate every few years, owning a home is not a good decision. If poor credit is an issue, your mortgage-interest rate will be high, you may have better luck renting.
No two situations are ever alike so many factors need to be considered before making a decision. Though if renting an apartment or home, even if your landlord has coverage on the structure, it is the responsibility of the tenant to cover personal possessions. Many landlords require this before you rent.
And what if you are renting a cottage for the upcoming holiday weekend, you need to check with the owner what type of insurance they have. Rentals generally don't require commercial insurance. Seasonal cottages may only cover certain risks.
A drastically under-insured cottage may not offer renters the peace of mind they were looking for when escaping to better surroundings. And before spending the night in that dream cottage, you want to be clear that your personal items are covered in the case of an accident. Check with your own homeowners policy and renters to make sure you are covered anywhere in the world.