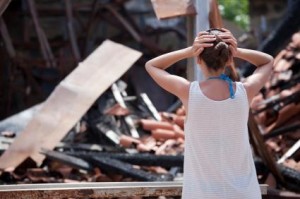 By Karla Sullivan
According to the Insurance Information Institute, only 37 percent of renters have renters insurance whereas 95 percent of homeowners have a homeowners insurance policy; a poll conducted by ORC International.
"Renters insurance provides a very important financial safety net when there is a disaster," points out Jeanne M. Salvatore, senior vice president and chief communications officer for the I.I.I. "And, renters insurance is relatively inexpensive—the average cost of a renter's policy is only $187 per year, or less than four dollars per week."
According to Pew Research, home ownership has fallen over the past decade in major cities such as New York, Los Angeles, Chicago and Houston, renters  outnumber homeowners, the US Census Bureau reports. These cities are also at risk from natural disasters such as hurricanes, flooding, earthquakes and severe winter weather as well as fire, theft and vandalism
"Many renters are under the misconception that their landlord's insurance policy will reimburse them if their personal property is damaged or destroyed, but that's just not the case," says Salvatore. "Fortunately, renters have a range of insurance options to choose from."
Renters insurance provides financial protection against damage to personal possessions due to natural disasters, theft and explosion and other disasters including water damage if pipes burst and water leaks from other apartments. Renters insurance does not cover flooding and earthquakes but separate insurance policies can be purchased for those events. Renters insurance can provide coverage for additional living expenses in the even that you are unable to live in your home or apartment.
The Information Insurance Institute provides a checklist on their website for more information about insurance.