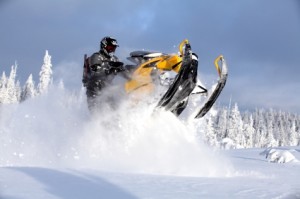 Though consumers may enjoy a number of recreational activities during the winter, some are more dangerous than others, which could prompt people to make sure they have proper snowmobile insurance coverage.
One of those activities that may end up leading to accidents is snowmobiling. According to the industry group the Insurance Information Institute's 2010 fact book, which cited data from the National Safety Council, there were 12,735 snowmobile-related injuries in 2004.
Given that amount of accident-related injuries, some consumers may consider snowmobile insurance protection before they hit the trails during the winter. Furthermore, the Illinois Department of Insurance is reminding people that they should make sure they are covered in other ways regarding the use of a snowmobile.
Those include:
• Adding an endorsement to a home insurance policy
• Adding an endorsement to an auto insurance policy
• Buying a policy specifically for recreational vehicles such as snowmobile insurance
• Considering an umbrella policy
Depending on the coverage, consumers will be protected for liability coverage along with protection against physical damages associated with accidents.
Snowmobile insurance covers injuries and damages you might incur to another person or their snowmobile if you were involved in or caused an accident. It will also cover bodily injury and damages to your person and your snowmobile if someone else collides with you during a ride. The amount of coverage varies by company. But typically a snowmobile insurance policy can provide up to $40,000 in medical liability and collision coverage.