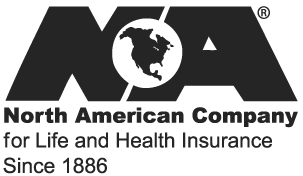 Headquarters: 525 W. Van Buren St. Suite 1200, Chicago, IL 60607
http://www.nacolah.com
Executive Officers: Vance Howard, President; Carleton Larsen, President; Gary Gaspar, Senior Vice President of Information Systems and Chief Information Officer
Products and Services: North American Company is a privately held life insurance company whose mission is to provide individuals with the financial protection they need. The company employs a "conservative investment strategy" by taking the long view. NOA offers clients several customized life insurance plans that correspond with their financial long-term goals.
The "ADDvantage" term life insurance plan allows customers to choose a premium period for up to 30 years.  North American's "Universal Life" insurance plan provides death benefits for individuals up to the age of 120. The company's "Indexed Universal Life" insurance plan offers financial bonuses that are awarded without interest rates to policyholders and coverage is provided for people who suffer from chronic or terminal illness.
Some quick facts about North American Company (NOA):
In 1886, North American Company was formed as the North American Accident Association.
North American Company became the first to offer disability insurance to women in 1918.  In 1984, the company introduced the very first universal life insurance product.
North American Company sold $100 billion worth of life insurance in 2000.
North American Company was ranked 30 in the Chicago Tribune's "Top Places To Work in 2010."
North American Company received an "A+" from both A.M. Best and Standard & Poor's in 2011.
Sources: http://www.nacolah.com,  http://www.hoovers.com
Compiled by Consumer Insurance Guide staff