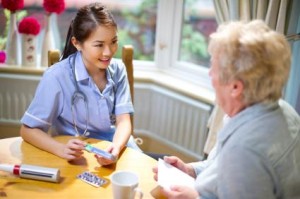 In the past when setting up care for an elderly parent or relative, home care was not that popular with the exception of meal programs and nurses that would come on a monthly basis. It is more than just talking to patients, giving baths and taking their blood pressure, it is about critically ill patients returning to their home base.
But daily care in the home was not advised and moving to a senior care facility was the best decision and still is in unique conditions. But now, many agree that providing health care in the home is less expensive and patients have responded well to in-home treatment. Studies by the Joint Commission have shown that home care interventions can improve quality of care and reduce hospitalizations.
If you are looking for care at home whether it for you or someone else, most just don't know where to begin though much will depend on what is considered medically necessary and custodial in nature. That makes a difference. According to MetLife, custodial care is likely not to be covered by private medical insurance or Medicare. Long-Term care insurance is one option or community services that may be available to supplement.
What type of care is the first question:
· Custodial – Activities include shopping, housekeeping eating, dressing, toileting and transferring
· Skilled – provided by licensed professionals such as nurses
What home health agencies is the second question:
· Medicare certified
· Private pay home care
· Companionship/Non-Medical Home Care
· Hospice
What type of home care workers:
· Professionals that included registered nurses and therapist
· Paraprofessional which include certified nursing assistants and home health aides
What is the cost:
· Private insurance
· Medicare
· Medicaid
· Veteran benefits
· Long term care insurance
What type of community resources are available. Utilize the available community service that may be more affordable but every situation is different. If for example, someone is ok with dressing and getting around the home but cannot cook and has special dietary needs.
Many Meals on Wheels programs can accommodate. Some programs are actually free or work on a sliding scales. If the individual does not need consistent home care but cannot drive, many communities due offer special transportation for older or disabled adults. Adult day services offer activities to seniors or the physically disabled and also provide transportation to and from the center. Local senior center or township is a good place to begin.
Metlife and the Joint Commission provides detailed information concerning the best place for health care and understanding the home care process. Begin with learning about the individual people and agencies that can help. Ask for recommendations from your health insurance adviser as well as your health care provider. That is also a great way to begin building a home care plan that will offer you the best options that you can afford.
According to the Joint Commission, the home care industry serves about 8.6 million patients with needs varying from primary care to hospice and palliative care.