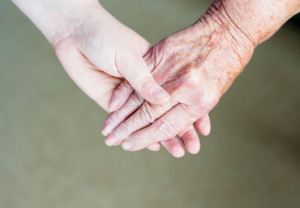 By Karla Sullivan
Margaret's Story:
As I wandered aimlessly around the backyard, a light snow began to fall. The neighbor's golden retriever scampered toward me, swishing his plume-like tail, smiling as only a playful dog can smile. He stopped at backyard fence, planted his big front paws on the top links, and waited for me to speak his name. I whispered, "Not today, my old friend."
I'd loved this friendly old dog since he was a newborn pup, but today when I searched the tangled disconnected wiring in my brain, I couldn't even recall his name. Lately, my frequent loss of memory had become more troubling. I wondered if it had been caused by stress, more distraction or something foreboding like…Alzheimer's perhaps? Shaken by a sudden, cold unreasoning fear, I hurried back into my house.
I closed the kitchen door behind me and felt a momentary sense of escape away from beloved pets with no name, away from neighbors wearing the faces of strangers, away from familiar roads with unfamiliar forks. I panicked again when I tried to remember what I was doing before I strayed outdoors.
I stole a glance at the stove; nothing was afire…I hadn't left the burner on again. My pretty oak table was polished and bare except for a bowl of artificial blue and yellow Cynthia. My keys were in the place I had decided for them years before. The dishwasher still churned; I had not forgotten to turn it on or to empty the clean dishes.
I walked into the living room and picked up a book I found lying on a chair. The title blurred and I realized that I'd lost my glasses again. I sat quietly on the couch and buried my face in my hands. Then, for a little while, I buried the present somewhere in my past.
My mind dredged up about Mothers sickness, which was Alzheimer's and it was hereditary. She could be confused, frustrated, and understandably angry. It was on such occasions that the frail lady could be difficult to care but I stayed by her side through it all. Her sleep was peaceful when she passed away.
It is estimated that by 2050, experts say the number of people 65 and older with Alzheimer's disease may nearly triple from 5 million to as many as 16 million, according to Consumer Affairs. Studies are escalating to find treatments as well as a cure.
What are the latest facts concerning Alzheimer's according to the Alzheimer's Association?
· One in nine people age 65 and older (11 percent) has Alzheimer's disease
· About one-third of people age 85 and older (32 percent) have Alzheimer's disease
· Of those with Alzheimer's disease, the vast majority (82 percent) are age 75 or older
And for individuals with Alzheimer's disease having sufficient long-term care insurance is a major concern. Private health and long term care insurance policies funded only about seven percent of total long-term care spending in 2009. The private long-term care insurance market has decreased since 2010 since many insurers have left the market or increased premiums making it impossible to afford.
However, the Alzheimer's Association does provide some modest policies for long term care funding. Generally, policies provide coverage for the custodial care of Alzheimer patients. Some policies have a waiting period which could be a problem. And others stipulate the type of caregiver and hours so as with any insurance policy, it is important to read the fine print.
Most Alzheimer families will have to exhaust their resources to become eligible for Medicaid which means spending down on their retirement savings. State laws differ in what assets you can have. With trusts you are allowed to keep your home, car and home especially when a spouse is involved.
The American Association for Long Term Care Insurance provides information about state approved long term care insurance. The Long Term Care Partnership Program is a joint federal-state policy initiative to promote the purchase of private long term care insurance. The Partnership Program is intended to expand access to private long term care insurance policy to pay for long term care services.
As we approach National Alzheimer's Awareness Month in November, we celebrate those involved that help to advance research, provide and enhance care for all affected and to reduce the risk of dementia. The Alzheimer's Association is the worlds leading health organization and they are sponsoring an honor a caregiver since there are more than 15 million Alzheimer and dementia caregivers.
You can add you own personal tribute to those that truly made a difference to someone with Alzheimer's; helping to alleviate a family member or dearest friend's suffering through moments of warmth and peace. Contact the Association for more information on how to submit your story and celebrate the movement in finding relief for Alzheimer's.