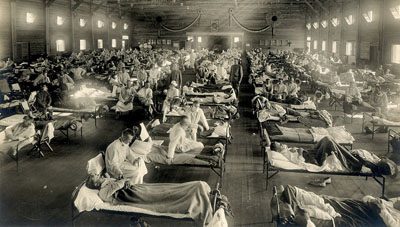 Some 90 years before a swine flu pandemic killed more than 200,000 people in 2009, a horrifically deadly form of influenza spread like wildfire across the globe. The first case in the U.S. was reported in Kansas during March 1918. The disease spread quickly and affected people in countries around the world. It represented the first known instance of an H1N1 pandemic which would be erroneously called The Spanish Flu, though it did not actually arise in Spain. While the outbreak disappeared as suddenly and it came on, by 1919, it was over. In its wake, the pandemic sliced through the global population and left a mortality rate as high 20% behind. It's estimated that perhaps as much as a full one-third of the world population was stricken and that, all told, 50 million people may have died.
The spread of the pandemic was lighting quick, and experts say approximately 25 million of the total deaths occurred during the first four and a half months of the outbreak.
A standard homeowners insurance policy protects you from lawsuits that may arise if someone is hurt or injured on your property. But what happens if someone catches the swine flu at your cocktail party and decides to sue you? Or what if your sick child visits a neighbor's home and passes on the bug?
The swine flu, or H1N1, spread rapidly throughout the United States in April 2009. At the time, it was prevalent in 48 states, according to the Centers for Disease Control and Prevention (CDC). On November 2009, the CDC tracked 1,476 fatal cases of the flu in North America. On August 2010, the World Health Organization's International Health Regulations (IHR) Emergency declared the global end to the pandemic.
Some people argue that you're liable for putting others at risk of catching the flu or some other communicable illness while entertaining at your home – especially if you knew the danger existed.  Charles Kutner, a New York-based medical malpractice attorney, believes that property and casualty insurers may be slammed with claims related to the spread of pandemics.
These claims could include scenarios where parents fail to properly vaccinate their children and allow them to pass the virus onto others at school or home.
"If a parent refuses to have his or her kid vaccinated  — or worse  — they know their kid has something as serious as the swine flu and someone gets sick at their house and dies, they could be held liable," says Kutner. "One of the fears of the CDC is that parents may start to have swine flu parties that are similar to chicken pox parties. Civil liability might occur if the homeowner knew there was someone in the home with a documented infection, but the plaintiff would have to prove that's how they got it."
This means "willful intent" or "negligence" would have to be proven in a lawsuit, Kutner says. It's possible that the accused party wasn't aware that their child was sick – in which case it's unlikely they'd be held liable.
"There is a lot of room for misinterpretation because oftentimes people have no idea they are contagious until it's too late," he adds.
But if a court found you liable, who would pay for the damages awarded to the victim? Kutner believes that home insurance companies would pay. But some claim otherwise. Lynn Knauf, a spokesperson for the Property Casualty Insurers Association of America (PCIAA), says policyholders do not have insurance protection from a lawsuit resulting from the spread of a pandemic.
"The insurance company would not pay for a lawsuit or any damages that might arise from someone catching swine flu at a social gathering regardless of whether the policyholder knew they or their children had swine flu or not," says Knauf. "The exclusion is under the personal liability and medical payments to others section in an HO policy, and this includes the spread of communicable disease by the insured."
According to a standard Insurance Services Office (ISO) home insurance policy, personal liability and medical payments coverage does not apply to "bodily injury or property damage, which arises out of the transmission of a communicable disease by an insured." But not all insurance companies follow ISO recommendations.
"An insurer is more likely to be sued if the language in the insurance contract was ambiguous or not properly defined. The communicable disease exclusion is clearly defined in most contracts," says Knauf.
For example, if your child has H1N1 or another serious communicable illness and he or she infects another child with the virus at a play date, the victim's parents could sue you for bodily injury to them or their family — but you're likely to pay your own legal bills.
In California, the department of insurance has designated communicable disease exclusion for homeowners policies, which prevent policyholders from acquiring insurance protection when they transmit a disease to a third party.
Some Unknown Facts about Pandemics and insurance
Travel insurance. Before you travel to Mexico, or anywhere outside of the country be certain to read your insurance policy to make sure you are covered for emergency care, transportation by ambulance and medical evacuation. If you come down with H1N1 and must be transported back to a hospital in the United States, it could cost upwards of $100,000 or more, according to the CDC. It's also recommended that you travel with a supply of antiviral medications as a precautionary measure.
Health insurance. Make sure your health insurance covers the administration of vaccines, including H1N1 or any other serious communicable disease like tuberculosis.  The Who recently recommended that people living in the Northern Hemisphere should be vaccinated for the 2011-2012 seasonal influenza vaccine for these nasty bugs:
A/California/7/2009 H1N1-like virus
A/Perth/16/2009 H3N2-like virus
B/Brisbane/06/2008-like virus
You can track recent flu trends in the United States by going to Google Flu Trends.
Farm and ranch insurance. If you're a farmer and have workers that are in close proximity to pigs or animals, it's a good idea to carry business liability insurance that covers loss to income due to the illness of your employees.
Disability insurance. Find out if your employer offers short-term and long-term disability coverage. Some employers offer short-term at no cost but you may also be able to purchase long-term. This coverage is beneficial if you find yourself missing work due to an illness.
If you don't have life insurance and fall into a high-risk category for H1N1 or tuberculosis, consider purchasing life insurance to protect your family and assets. Certain groups of people are more at risk of dying from these viruses than others. According to the CDC's Advisory Committee on Immunization Practices, priority should always be given to pregnant women, parents and caregivers of children and young adults, people suffering from chronic medical conditions or a suppressed immune system as well as healthcare givers and emergency medical personnel.
Do health insurers cover the cost of the H1N1 or Influenza vaccine?
Major health insurers such as Aetna, Blue Cross Blue Shield (BCBS), Cigna and United Healthcare are among those that cover flu shots and physician's fees for administering the H1N1 vaccine to policyholders. But varies by state. Before getting the vaccine, you may consider contacting your insurance company or your employer's human resources director to find out if your insurer covers the vaccine and if there are any limitations to coverage.
Medicaid and the Children's Health Insurance Program (CHIP) will cover one or more doses of the H1N1 flu vaccine or the influenza vaccine, as recommended by a doctor. Children and pregnant women can receive the vaccine free of charge. Adults with public health insurance should get the vaccine at a public health department or rural health clinic and may have to pay a minimal co-payment.
The National Institute of Allergy and Infectious Diseases (NIAID) provides a list with information on current emerging and re-emerging infectious diseases: