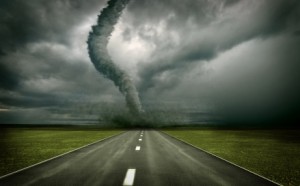 By Karla Sullivan
Tornadoes can occur at anytime but tend to be more active during the spring months and between the hours of 3pm and 9pm. As we approach the months were tornadoes tend to be historically prominent, the American Red Cross advises the following.
To prepare for a tornado
· Make sure you valuables, personal property and important documents are stored in a secure place.
· Any valuables you have purchased recently should be added to your homeowners policy.
· Consider having a safe room reinforced.
· Listen to news reports to stay informed about watches or warning.
· Secure lawn furniture, trash cans and hanging plants.
· Make sure your family knows where you are at and vice versa and an emergency contact list is updated
· Know your community's warning system.
· Practice periodic tornado drills in home and workplace.
· Watch for tornado danger signs such as greenish cloud, wall cloud, large hail or funnel cloud as well as a roaring noise.
During a tornado
· Do not drive but if caught pull over and park. Covering your hands and putting your head down below the window line will protect against debris.
· If you can get lower than the level of the roadway, exit your car and lie in that area.
· Go to the nearest building.
· Underground shelter or a windowless interior room on the lowest level.
After a tornado
· Where a helmet, long pants, a long sleeved shirt when examining for damage in your home.
· Report fallen power lines or broken gas lines immediately.
· Use battery powered flashlights, not candles.
· Take pictures of damage for claims.
· Take inventory.
· Clean up spilled medications/or flammable liquids.
· Check for injuries.
Does your home insurance cover tornado damage?
Tornadoes have touched down in every state in the US and over 900 tornadoes touch down in the US each year. According to insurance experts, your basic home insurance should cover the damage inflicted by a tornado unlike floods and earthquakes. But many have a high deductible with lower premiums and you do want to be able to cover the deductible if destruction does occur.