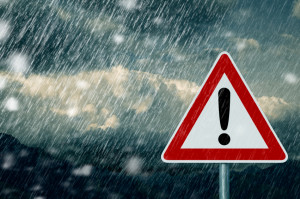 By Emily Miller
Hail is an enormous headache for consumers and the insurance industry, especially for the Midwestern states. Every time a storm occurs, profit margins turn upside down and claims skyrocket. In order to offset the costs, insurance companies increase premiums.
Hail causes about $1 billion in damage to crops and property each year, according to the National Oceanic Atmospheric Administration (NOAA). Events involving wind, hail or flood accounted for almost 3 billion in insured catastrophe losses in 2014.
There were 5,536 major hail storms in 2014, according to NOAA, with the largest number of severe fail storms occurring in June (1,540 storms), May (1,206 storms) and April (812 storms).
While hail storms most frequently impact the Great Plans and Midwest, every state in the nation is susceptible and should be prepared for such storms.
The top five state for major hail storms in 2014 were:
Nebraska – 624 storms
Texas – 557 storms
Kansas – 534 storms
Iowa – 290
Missouri – 266
While nothing can stop hailing from falling, there are ways to reduce the amount of property damage that will benefit both consumers and insurance providers.
For starters, when building or remodeling your home, consider impact resistant roofing products to reduce hail damage to the roof. By securing the roof, you are ultimately protecting the rest of the house as the roof acts as a protective shield.
Materials such as shingles that are designed to withstand such weather conditions reduce the risk of hail damage and ultimately increase the longevity of your roof. Certain insurance companies even offer insurance premium discounts to homeowners who take such proactive measures against hail damage.
If you are aware of a future storm, plan ahead by parking your car in a garage or carport. If you don't have a covered parking spot, consider purchasing a specially designed car cover to minimize damage. As a back-up plan, use a thick blanket to cover your car to minimize hail's impact.
Avoid parking under a tree as branches could fall on your vehicle and avoid driving at all costs.
Staying indoors when a hailstorms hits is top priority. Since hail can shatter windows, make sure all windows are closed and blinds are shut. Avoid standing near all windows, skylights and doors.
After a storm has passed it is important to remain calm and composed so you can properly assess the damage and begin the claims process. It is recommend to inspect the following items:
Exterior of your home for structural damage
Any vehicles
Outside furniture
Landscape for any fallen or damaged trees
When filing a claim, take the following step into consideration
Take photos of everything that was damaged
Contact your insurance company as soon as possible
Contact a reputable rooting company and/or auto body shop to make repairs
Get everything in writing and make copies all of important documents (i.e., a copy for yourself and a copy for your insurance company)