This information is primarily concerning properties that are located in FEMA Flood Zones "A".
Carolina Heritage Insurance is dedicated to helping communicate and clear up the upcoming FEMA Flood confusion with regards to increases in Flood premiums and the remapping of Flood Zones.
If your property is located within an "A" Flood Risk Zone, and is an older property (1990 and older) and you're paying a high premium… the information below may provide some help.  In any event, if you receive a notice from FEMA, feel free to contact us for a common sense explanation.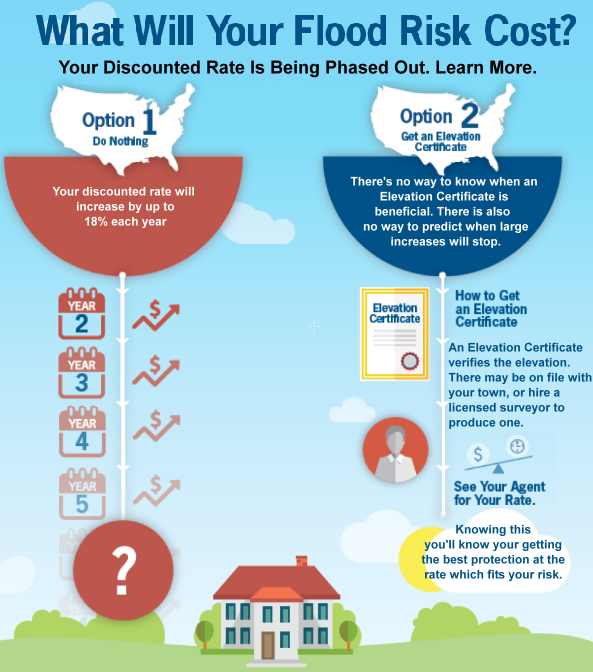 Keep Your Policy In Force for A-Zones and Pre-Firm Policies.
If you ever allow your flood insurance policy to lapse for either more than 90-days, or twice for any number of days, you may be required to provide an Elevation Certificate, and you will no longer be eligible for the discounted rate you have been receiving. You will immediately begin paying the rate based upon your true flood risk.
Additional Information About FEMA Flood.
The Homeowner Flood Insurance Affordability Act of 2014 (HFIAA) requires gradual insurance rate increases to properties that currently receive artificially low rates.
HFIAA requires increases to premiums for most subsidized properties of no less than 5 to 15 percent annually, but no more than 18 percent annually for an individual policyholder until the premium reaches its full-risk insurance rate (with limited exceptions).
Approximately 80 percent of NFIP policyholders currently pay full-risk rates and are minimally impacted by these increases
Floods continue to be the most common and costly natural disaster in the United States.
Floods have the greatest damage potential of all natural disasters worldwide and affect the greatest number of people. Approximately 73 percent of major U.S. disaster declarations from 2006-2015 relate to events that included flooding.
Questions and Answers
Q: If policyholders sell their property, can they transfer their policy with the discounted rate to the new owners?
A: Yes, if the flood insurance policy is continuous and has not lapsed. Learn more by speaking with an insurance agent,
Q: Should I get an Elevation Certificate and if so, when?
A: There is a cost to purchasing a new Elevation Certificate, approximately $400 to $650. Until a policyholder gets one, there is no way to determine when, or if, having it will lower flood insurance premiums.
Q: Can policyholders keep paying the lower rate even if they get an Elevation Certificate?
A: Yes. Once policyholders get an Elevation Certificate, they can pay either the amount that reflects the property's full flood risk, or the discounted/subsidized rate, whichever is less.
Q: Will an Elevation Certificate be beneficial when selling a property?
A: Yes. An Elevation Certificate may be helpful because the buyer will know the property's full flood risk, and will have a better idea of how much they may be charged for flood insurance in the future. Learn more by speaking with your insurance agent.
Q: What happens after a policyholder gets an Elevation Certificate?
A: Policyholders can work with their insurance agent to determine when it will be financially beneficial to switch to a rate based on the property's full flood risk. As long as the subsidized rate is lower than the rate based on the Elevation Certificate, policyholders can continue to pay the lower rate.
Q: Are there options to save premium with any Private Flood Carriers?
A: There may be, call us to quote your home with several of our Private insurance companies. In certain situations, there may be savings.
The above article was provided by Carolina Heritage Insurance www.CarolinaHeritage.net of Hilton, Head, SC, telephone (843) 689-3030