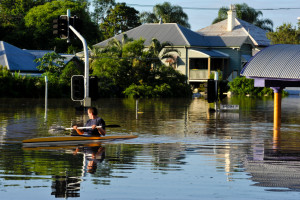 By Emily Miller
With spring being right around the corner, the Colorado Division of Insurance (DOI), part of the Department of Regulatory Agencies (DORA), encourages consumers to "Take 5 and Get Wise" about flood insurance.
Many homeowners do not realize that their basic homeowners insurance does not include protection from flood damage, and that flood insurance must be purchased as a separate policy.
As spring's warmer weather also bring heavy rains, severe weather, rapid snowmelt and overflowing rivers, now is the time to consider buying a flood insurance policy.
One option for flood insurance is the National Flood Insurance Program, administered by the Federal Emergency Management Agency (FEMA), as it is a federally subsidized program available for any property owner – homeowner, renters, condominium owners and associations – whether or not the property is in a floodplain.
National Flood Insurance costs about a dollar a day, on average, depending on the location and the type of coverage chosen. Typically, there is a 30-day waiting period after applying and paying the first premium for the insurance to become effective.
Policy options vary in size and items covered. For example, a policy could simply insure just the structure of a home or it may include all of its contents. The amount of coverage depends on your needs and personal finances.
The Colorado Division of Insurance would like to point out that floods can and do happen in high, medium and low-risk flood zone, as preparedness is key.
Oftentimes, they accompany natural disasters such as storms, early snowmelts or rising rivers, but not always.
About 25 percent of all flood insurance claims comes from outside of high-risk areas. In 2012, FEMA updated its Flood Insurance Rate Maps (FIRMs) to help determine the amount of flood risk and if flood insurance is required.
Homeowners can view the maps at www.floodsmart.gov to determine if a property is in a flood-prone area.
If you are located in or near a flood-prone area, it is recommended that you purchase some sort of flood insurance policy as a precautionary measure. Contact your insurance agent about buying flood insurance before it is too late.