It's hard work restoring a historic home. As a compensation for your labor, you'll have a sense of accomplishment and rest safe in the knowledge that you've helped preserve the nation's past insistence on craftsmanship and design.
Here's the rub: a standard homeowner's insurance policy won't cover the replacement of materials such as those stately columns, antique doorknobs and custom woodwork details which make your home unique and worth preserving. Depending on the age of your home, the sort of craftsmanship and types of materials you'd need to bring your home back from a disaster could be rare indeed.
While some homes built before and up to 1950s are considered for inclusion in the historic registry, finding the correct brick, stone and lumber materials typical of those eras is difficult. Consider that federal grants are hard to come by for individual homeowners when it comes time for period-correct restorations.
Insuring historic homes will require that you bear the burden of caretaking your investment and American history.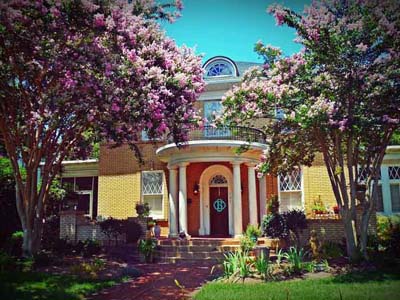 To make certain that your historic home is properly covered, insurers often sent restoration experts to a given home before issuing a policy. Those experts examine the architecture details and materials used in building the home to arrive at a proper valuation.
Standard policies, while they cover homes for replacement market value, don't generally consider the details of historic homes when it comes to replacement of antique and hand-crafted features. How much will it cost to replace elaborate crown moldings or intricate plaster work? That's information you need to understand how to proceed when purchasing your insurance.
Jeff Devlin is a licensed contractor and carpenter who restores centuries-old homes, and he's been featured on the DIY network show STONE HOUSE REVIVAL.  Devlin and his team have transformed a number of downtrodden historic properties around Bucks County, Penn.
"I've been renovating homes around Bucks County for more than 20 years, and most of them are older than the country itself. People take the heart out of the home when they strip it down or try to change it into something new," Devlin says. "We restore and renovate these places – and save some history, too."
So How Much Will It Cost Me To Insure My Historic Home?
Some insurance companies won't even bother to quote you a policy to cover your historic structure. They might feel that any potential payout risk is too high,  so it's up to you to shop around. If you need a deeper dive into insuring your historic home, the National Trust for Historic Preservation offers estimates and state or local historic preservation societies also offer assistance.
While a historic home can be expensive to purchase and protect – you'll find that specialty insurance could run up to 20 percent higher than a standard homeowners policy – you're likely the type to take on the hard work and added expense. In purchasing your policy, pay special attention to important details such as documenting previous repairs and restorations. That should help you keep your insurance company on the same page with you when it comes to future issues which might arise.
Say your historic home is damaged or, heaven forbid destroyed, are you committed to rebuilding it exactly as it stood before the incident? Historically accurate materials and craftsmanship don't come cheap? It's also possible that should you live in a historic district, replacing elements of your home with modern materials such as vinyl siding and some new roofing technologies won't be allowed at all.
Here are some factors you should address when considering which level of homeowners insurance policy you'll need:
Are you, and your neighbors, OK with using modern or replica materials to rebuild or replace architectural features of your home?
If you insist that any rebuilding or repair efforts use only period materials and workmanship techniques, you'll require a much more expensive homeowners insurance policy which includes coverage for those 

restorations.
Should you purchase specialty coverage, you'll still need to take on the thankless task of reading all the fine print as certain policies might only require your insurer to replace your 1800s rough-sawn oak flooring with similar, but modern-made products.
Factors to Consider When Your Shop For Your Historic Home Insurance
Restoration coverage: Pay special attention to the differences in how insurers define "restoration" and "replacement." While those terms might seem to cover the same ground, the reality can be quite another thing. If you're buying pricey historic home insurance, pay attention to whether or not your policy spells out how they define those terms.
Replacement coverage: While it might be less expensive to purchase a homeowners policy which provides "functional replacement" of damaged elements, that track won't preserve what you love about the home and what provides its historical significance.
Why Historic Home Insurance Is More Expensive 
Historic home insurance costs more than a regular homeowners policy, that's just how it goes. The higher premiums take into account the additional costs associated with replacement and restoration of damages using historically accurate materials. Such materials – and the craftsman capable of installing them – don't come cheap.
It's likely that rebuilding a home constructed before 1945 can cost 20% or more than rebuilding a home of similar size which uses modern materials and construction methods. It comes down to one critical fact: restoring a historic home to its former glory after a disaster with period materials might cost considerably more than you anticipate. A professional risk evaluation is an absolute must to arrive at a useful valuation of your home before you buy your coverage.
Researching Historic Home Insurance
As a starting point in your research shopping for restoration insurance, it's a fine idea to contact state, local and national historic preservation groups. You can also visit the National Trust for Historic Preservation for additional advice.