By Karla Sullivan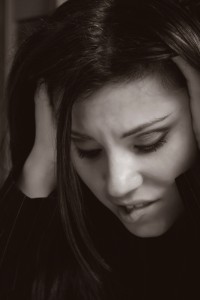 Every day was difficult, exploring a routine of relaxation techniques, massage, breathing exercises, the sound of taped ocean waves, and mediation to slow the mind. The journey to peace was also combined with counseling and medication. All to overcome the feelings of dread, fear and negative attacks. All to overcome the chest pain that wasn't a heart attack. But the new lifestyle did see positive results after time and patience.
According to the National Fibromyalgia Association anxiety disorders ranks the most common in the US. In recent studies, besides being ranked Number 1 in obesity, United States ranks number 1 in global proportions as the country with the most anxiety.
Approximately 40 million American adults ages 18 and older—or 18.1 percent of the adult population—suffer from an anxiety disorder, according to new figures from the NIMH. Anxiety disorders are a unique group of illnesses marked by persistent, irrational, uncontrollable anxiety. These include generalized anxiety disorder, obsessive-compulsive disorder (OCD), panic disorder, post traumatic stress disorder, social phobia and specific phobias. And the list goes on including depression.
Women are 60% more likely than men to experience an anxiety disorder over their lifetime. Non-Hispanic blacks are 20% less likely, and Hispanics are 30% less likely, than non-Hispanic whites to experience an anxiety disorder during their lifetime.
Why the surge? Diagnosis of anxiety disorders were not recognized years ago so in just the recent decade, there have been more medical labels to conditions that were misunderstood in the past. Having a nervous breakdown is what many called anxiety disorders.
The recent economic downturn that caused unemployment, lower wages, the higher cost of living, health and child care costs have created a nation of worry. "Surveys show that stress levels here have progressively increased over the past four decades," says Paul J. Rosch, MD, Chairman of the Board of The American Institute of Stress.
Many sociology studies have shown that the race to get ahead is a strong factor in increasing the number of anxiety disorders and symptoms.
And how does anxiety affect life and disability insurance. According to MetLife different disorders can produce different decisions in the underwriting process. Some of the concerns that insurance companies will look at are the following:
· Type of disorder
· History of any depression
· Suicide attempts
· Medications
· Hospitalizations
· Counseling
· Lost time from work
One reader comments that that we have forgotten the family and the importance of being content with what we have, as opposed to always wanting more. Worry is the "interest paid on a loan not yet made".
Uncontrolled anxiety can be costly to our health and insurance needs. Qualifications for insurance rates are solely based on a clients complete history. But contact an insurance specialist that can give you more information that best fits your needs.
In the meantime, if looking for a professional to help with your symptoms of anxiety or depression, a great place to start is the Anxiety and Depression Association of America that may offer resources in your community that can help.