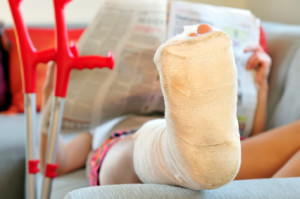 By Emily Miller
Consumers have a great deal of misunderstanding when it comes to disability insurance. With the help from LIMRA, a worldwide, learning and development organization, we are going to break down the top five myths about disability insurance.
To put the disability insurance industry into perspective, LIMRA compiled the following statistics:
– 63 percent need some type of disability insurance
– 48 percent don't believe they need it
– 29 percent already own disability insurance
By breaking down the myths of disability insurance to potential customers, insurance advisers are taking an important first step in helping their clients determine the right amount of coverage for their situation.
Below are the top five myths about disability insurance:
Myth #1: Most disabilities are caused by catastrophic, one-time events, such as serious accidents or injuries.
Fact: Insurance statistics show that only nine percent of long-term disabilities actually resulted from serious accidents. However, short-term disabilities can have a dramatic affect on an individual's income and their ability to support his or her family.
The top causes of disability are often triggered by more common chronic conditions, including:
– Back problems
– Join pain
– Muscle pain
– Muscle and bone disorders
Myth #2: Most disabilities are work-related and covered by workers' compensations benefits.
Fact: Nearly 90 percent of disabilities are not work related and therefore are not covered by workers' compensation. Disability insurance can be used to cover lost income when an individual is recovering from an operation or surgery that renders them unable to work.
Also, illness, not accidents are responsible for most of the disabilities people suffer.
Myth #3: The chances of becoming disabled are slim, around one in one hundred chance.
Fact: The Social Security Administration estimates that one our of three Americans entering the workforce today will become disabled at least once before they retire. This includes both short-term and long-term disability,
While employees think the odds are small, a sudden interruption of income could have serious financial consequences.
Myth #4: Disability insurance isn't as important for women because men are more likely to become disabled.
Fact: The disability rate is increasing more rapidly for women than men.
The percentage of covered female workers receiving Social Security Disability Insurance (SSDI) payments in 2011 (5.6 percent) was 58 percent higher than 10 years earlier (3.6 percent in 2001), while the percentage of covered male workers receiving SSDI grew by 44 percent during the same period.
Since more than 70 percent of American households rely on two incomes, it is important than both spouses protect their income with disability insurance.
Myth #5: Sick leave and vacation time can be used to cover expenses during a disability.
Fact: While sick leave and vacation time are certainly helpful in time of need, the benefits from them usually run out in a matter of weeks – at a time when the expenses are often increasing. On average, a disability can last for three months.