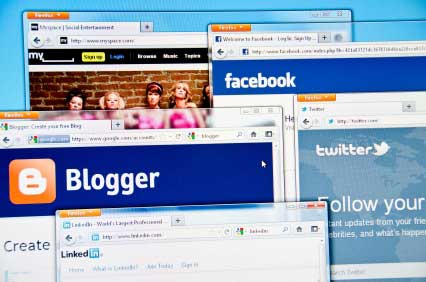 Peppered amongst fan messages to Justin Bieber, the news of Osama Bin Laden's death, and popular phrases from the latest "Glee" episodes, the word "rogue" is fast becoming a hot-button issue on Twitter. Thoughtless, knee-jerk comments can quickly become viral sensations and professional and personal disasters in the real-time nature of the social media culture.
What happens in the aftermath? In some cases, companies have seized onto the vast amount of free publicity they've received and come out ahead. In other instances, jobs have been lost, companies have had to run damage control, and celebrities have lost endorsements, money and contracts—all because of a 140-character tweet.
The first major incidences of "rogue" tweets showed up in the headlines of reputable news sources in early 2011. The most prominent and infamous include a fashion designer who angered millions with a tactless tweet; an employee who tweeted about getting drunk on craft beer on her employer's feed; and someone venting about rush hour traffic as the voice of a prominent automaker.
In February, American Red Cross employee Gloria Huang alluded to getting drunk, but accidentally posted the message to the company's Twitter feed. The result was an avalanche of bad reactions.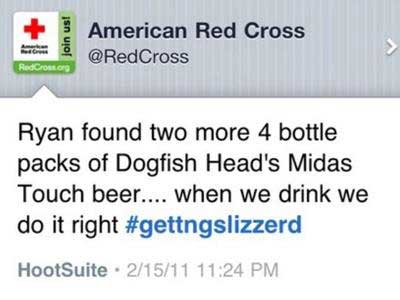 "[I] thought I'd send a tweet out about how I was excited that we found some more Midas Touch [beer] in the store. I used my iPhone because it was close at hand and wrote up a quick tweet before going to bed… And the rest is history," Huang says in an interview with We Love DC.
Public relations and social media guru Sarah Evans (@prsarahevans) recalls the Red Cross incident, noting that their social media team sprang into action immediately.
"When the tweet went out, all of the response was negative. People were saying, 'This is what my donations are going to?' and wanting the person who wrote it fired. But that night, [the Red Cross] responded via Twitter without a crafted message or press releases," Evans says.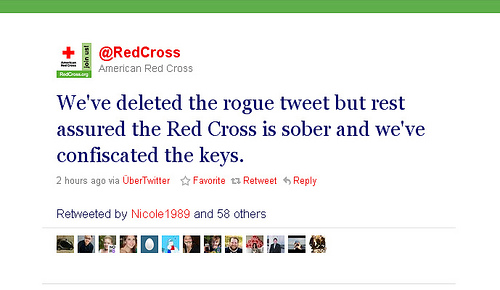 Evans, who was named one of "America's Tweethearts" in the February 2010 issue of Vanity Fair and has more than 60,000 Twitter followers, says there are a number of approaches to consider when resolving a situation with a rogue tweet.
"The time and attention you devote to a mistake will tell your followers how big of a mistake it is," Evans says. "By the time the Red Cross sent the message out and deleted the tweet, 100 percent of the response was positive. People make mistakes, and you live and you learn."
Pages: 1 2