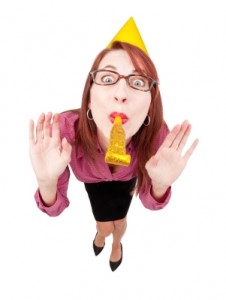 The year's final hours usually are filled with parties and popping champagne corks. But New Year's Eve can hold a host of dangers for those who don't ring in the new year responsibly.
"With a little awareness, everyone can have a safe and happy holiday," says Tom Heitz of the Santa Clarita, California-based Heitz Insurance Company. "If you're going to serve alcohol, you have to be extra cautious."
A major safety issue for the holiday is drinking and driving. The U. S. Department of Transportation reports that New Year's Eve is one of the most dangerous nights of the year on roadways because of drunken and impaired drivers.
State and local municipalities are on the look out for impaired drivers during the holidays and specifically on New Year's Eve. If you are stopped for drinking and driving, not only will this cost you hundreds to thousands of dollars in court fees and additional costs such as making bail, the consequences of a mark like this on your driving record will raise your auto insurance rates or you may be dropped by your insurer. A drinking and driving violation could easily haunt you and your search for auto insurance coverage for five to seven years.  Therefore, the choice to have one too many drinks on New Year's Eve and get in a car to drive home simply isn't worth the risk. You're better off calling a cab, taking a commuter train or bus, or bringing a trusted designated driver to the party.
For more, see how a DUI or DWI affects your insurance rates.
When you open your home to guests and alcohol is served, it pays to be a responsible host and not let guests who've had too much to drink drive away. But it also pays in other ways. Did you realize that you may be legally responsible for party-goers actions after they leave?
Forty-three states have "social host liability" or" liquor liability" laws. While they vary by state, these laws basically hold the person who furnishes liquor criminally responsible for what happens after they leave the party.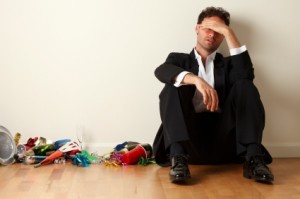 Loretta Worters of the Insurance Information Institute says while a social host is not liable for injuries sustained by the drunken guest, the host can be held liable for injuries to third parties, and may even be liable for passengers traveling in the guest's car.
"Most of theses laws also offer an injured person, such as the victim of a drunk driver, a method to sue the person who served alcohol," says Worters. "There are circumstances under these laws where criminal charges may also apply."
Before throwing a party, also consider the physical safety of your residence, and think specifically about overcrowded decks or porches.
"If a deck or porch collapses because there are too many people on it, that falls back on the homeowner,"says Heitz, noting that an overloaded deck collapsed in Chicago in 2003, leaving 13 partygoers dead and dozens more injured.
Also, before throwing that holiday bash, the Insurance Information Institute recommends consulting with your insurance agent about your homeowners insurance coverage and any exclusions. Homeowners insurance usually provides some liquor liability coverage, but it is typically limited to $100,000 to $300,000. The group also urges homeowners to look into their state's social host liability laws before planning a holiday soiree. Most states also have laws that pertain specifically to furnishing alcohol to minors.
Other ways to protect you and your guests: Consider venues other than your home to help minimize liability risks, hire a professional bartender, stop serving liquor toward the end of the evening, and offer non-alcoholic beverages and serve plenty of food.
When it comes to huge holiday bashes at nightclubs or bars, liquor liability would most likely be covered by their commercial general liability insurance policy, but the Insurance Information Institute says it's best for businesses to check with their insurer first.